art collective teamLab has returned to mifuneyama rakuen park on the japanese island of kyushu to premier a new exhibition titled 'a forest where gods live, ruins and heritage – the nature of time'. the show is being held concurrently with an annual sprawling nighttime exhibition, which . as part of the exhibits, which both remain on view until november 4, 2019, teamLab has unveiled its latest monumental artwork — a piece titled 'megaliths in the bath house ruins'.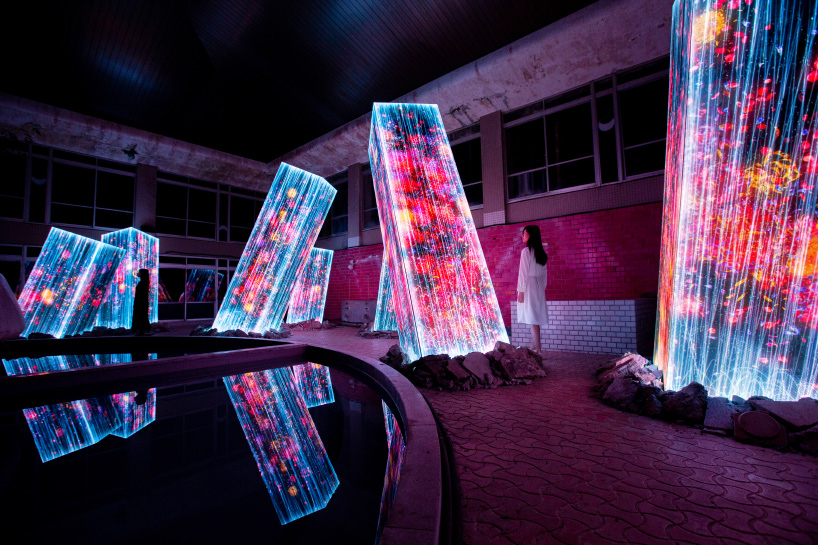 all images and video courtesy of teamLab
within the ruins of the park's abandoned bath house, teamLab has installed a series of volumes that appear to have emerged out of the floor. these 'megaliths' feature artwork that is continuously rendered in real time by a computer program — it is neither prerecorded, nor on loop. consequently, previous states never occur again, and the artwork is continuously changing due to the movement of people. 'every moment is unique and can never be seen again,' say the artists.
as part of the installation, artwork that features flowers and people is in a state of continuous change. over a period of one hour, a year's worth of seasonal flowers blossoms and scatters. the flowers bud, grow, and bloom before their petals begin to wither and eventually fade away. although this cycle of growth and decay continually repeats itself, if a person stays still, the flowers surrounding them grow and blossom more abundantly.
a universe of water particles forms the other digital artwork projected onto the volumes, with multiple waterfalls cascading down the three-dimensional objects. when people approach the artwork, the flow of the water changes. again, the movement of people influences the artwork, causing it to continuously evolve. the artwork also influences other works. for instance, the water causes the flowers to scatter. has developed the soundtrack for the exhibition, which is sponsored by and is on view from now until november 4, 2019.
project info:
exhibition: :
venue: mifuneyama rakuen park (4100 takeo, takeo-cho, takeo city, saga, japan)
dates: july 25, 2019 – november 4, 2019
hours: july 25 – sep 12, 11:30 – 18:00; sep 13 – oct 11, 11:30 – 17:00; oct 12 – nov 4 ,11:30 – 16:00
sponsor:
cooperation: saga television station
This content was originally published here
.
This content was originally published here.